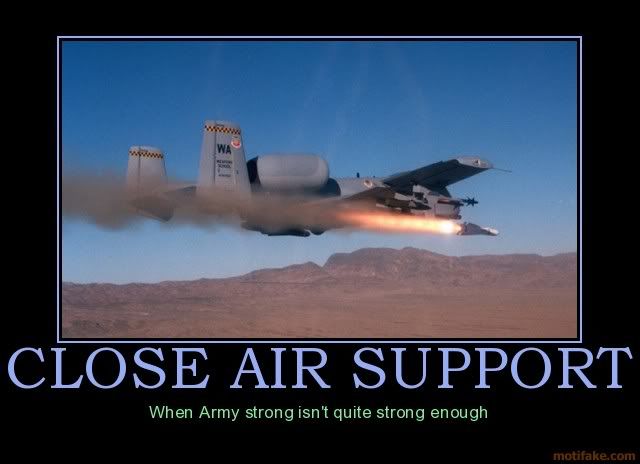 So, most know that I like to build TE missions. Reason is simple, TE's give you the capability to control every detail of a mission that could be very valuable to hone skills. With that said, I think there is a lack of FAC(A) implementation in this game.
Real world background, I am air warden qualified and a graduate of the Joint Firepower integration course otherwise known as the JP 3-09.3 school and can provide some insight and training with on call and pre-planned Close Air Support.
The purpose for CAS and JTAC/FAC(A) integration on the battlefield is simple. The GFC (ground force commander) has an intent or CONOP in mind of a battle with a desired outcome. CAS is a capability and resource that is HIGHLY sought after on the battlefield in our current engagements in Afghanistan and most recently in Iraq.
The role of the JTAC/FAC(A) is to control airspace if the FLOT(front line of troops) or FSCL (fire support coordination line) becomes tightly constrained to where aircraft cannot openly engage targets of opportunity without the risk of fratricide. So here is a UOAF CONOP(CONcep of OPerations) for FAC(A) implementation that I have developed.
1. Communication
The TTP (Technique, Tactic and Procedure) that I would like to implement first is communication. Communication is the most important tool to the GFC. Without it, chaos will ensue and friendly troops or aircraft are at a higher risk of fratricide. With that said, this is the standard for this TE that I would like to implement. Brevity and Discipline, Radio Frequency and Products. Otherwise known as BADRAP.
Brevity: Understanding standard brevity like TTFACOR, Type I II or III control, 9-line, Fighter-to-FAC check-in, FOX 1-2-3, Victor/Uniform frequency, Killbox/keypad, MGRS or LAT LONG coordinates, LSST: Laser search spot track, Target marking: Willie Pete, spot, tally, visual, blind. We will go further into this in the briefing.
Discipline: Referring to standard comms and brevity, referring to each other by personal callsign should be avoided, when directive calls are made to the flight, a flight response to indicate you have copied said information should be passed.
Radio Frequency: Maintaining open Guard and closed Victor radio, this is a responsibility of the flight lead.
Products: Being able to refer to a flight plan via steer point or SPI (sensor point of interest) to orient the flight on said target.
2. Flow
Establishing secure communications to the controlling aircraft that is responsible for clearance authority, otherwise known as a Fighter-to-Fac check-in.
This is best understood by knowing what the 5 W concept is. Who, what, where,when and why. Communicating this to your controller is paramount to CAS. The Fighter-to-FAC check in should flow like this.
"Viper 2 Victor check"
"2"
"3"
"4"
"Sandy 11, Viper 21 on station 0630 Local, say ready fighter to FAC check in"
"Sandy 11 ready to copy"
"Viper 21 mission number 1234, 4 ship- Fox-Sixteen CJ, Overhead 150 block 210 45JT(killbox) Keypad 1234, Playtime 0+30 mike until first AR, Loadout is as follows 4x AGM-65D, 2x CBU-97, SNIPER pod TLE CAT I bomb on coordinate, IR pointer with products, request abort in the clear, how copy?"
"Sandy 11 copy all and abort in the clear, request yo-yo tanker ops, say when ready tasking"
This is about 90% accurate to what you would hear on a no shit radio if you were on the assigned frequency. Obviously scrubbed for OPSEC, if you have any direct questions ask me in TS.
3. TTFACOR
Threat, Target, Friendly situation, Artillery Activity, Clearance Authority, Ordinance Requested, Restriction, Hazard, Remarks or otherwise known as a Situation Update. This is passed by the controller to update the attacking or employing aircraft of the situation of the battlespace. Usually in this format.
"Viper 21, Sandy 11 situation update as follows. Threat activity is as follows, 3 Battalions of T-62's are approximately 5 NM of my present location at steer point 4 according to your flight plan, your target is the eastern most congigated battalion north of the DMZ, Friendly location is 5 NM south of the 38th at this time, All Arttillery is cold and will pass GTL (gun target line) and Max ord if they go active, Clearance authority is through Sandy 11 or any declared JTAC's, Ordinance per 9-line, Restriction/hazards per 9-line how copy?"
4. 9-Line/Control
Controlling air interdiction and engaging targets on the ground is done by a JP 3-09.3 9-Line request by the GFC to the JTAC/FAC(A) and it looks like this.
The following should sound like this by the controller.
"Viper 21, Sandy 11 Type II control is now in effect. 1-3 N/A 4- Sensors 5- T-62's in the open 6- Sensors 8-Friendlies are 5 NM south of your target. . Resctricted run in heading is south to north altitude block 150-210 EGRESS SOUTH EAST OR EAST. Weapon type- CBU-97 BOMB ON TARGET, GFC Callsign is Jackal 30, ROE-Self Defense. Call inbound of clearance, How copy?"
"Sandy 11, Viper 21: 4-Sensors 6-Sensors 8-Friendlies 5NM south of Target, Restriction- South-> North, EGRESS SOUTH EAST. IP Inbound in 3 mikes."
"Viper21, Sandy 11 that is a good read back, continue!"
"Sandy 11, Viper 21 in from the south"
"Viper21, Sandy 11 CLEARED HOT"
"Viper"
The aircraft that has been cleared hot will NEVER, repeat that he is cleared hot over the radio, a simple Callsign reply or radio squelch is sufficient to let the controller know that you are in hot. The reason is to avoid confusion, multiple aircraft will be recieving 9-lines on the same frequency so deconfliciton is paramount.
Type I, II or III control
The low down skinny on Type control is this, Type I is reserved for the controller within visual contact of the target and the employing aircraft and is authorization for indivual attacks. CLEARED HOT
Type II is reserved for the employing aircraft to maintain visual contact with the target or the designating entity I.E. the JTAC/FAC(A) and is clearance for individual attakcs. CLEARED HOT
Type III is reserved for situations where extreme flexibilty is granted to the employing aircraft, meaning that he less restrictions placed on him and is usually a directive call from the JTAC/FAC(A) to emply ordinance until the target is destoyed or the GFC intent has been made. CLEARED TO ENGAGE, when the target is destroyed or the employing aircraft is done with the attack a ENGAGEMENT COMPLETE is given by the attacking aircraft.
Here is a Advantage/disadvantage list from JP 3-09.3
Mission
Here is the Juicy stuff! I constructed this mission today in hopes of flying it sometime this weekend. It is a 1 ship FAC(A) flight with a 4 ship Interdiction.
FAC loadout
4 ship loadout
If anyone wants this TE, contact me and I can send it to you. Unless, Krause of course wants to host it on his FTP for download.
Edited by Fluffer, 2012-07-20 @ 12:31.